Despite the world becoming a smaller place through technology, the need for physical resources cannot be replaced.
Although countless companies provide remote-support services, ESPs unique offering is having the ability to deliver exceptional support at a local-level.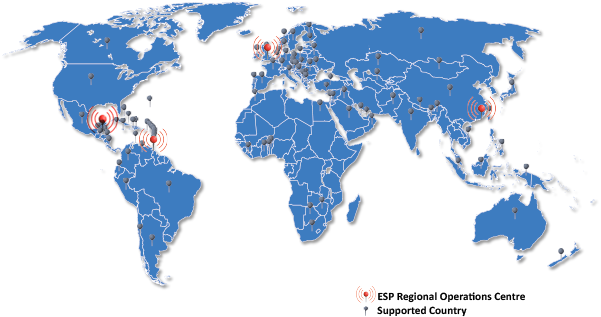 Whenever you talk to ESP you
are "Talking-Local"
ESP delivers world-class service by understanding the cultural and regional differences faced by our customers; such as, time-zones, currency, and industry & Governmental compliance.
ESP presents a consistent face to our customers, a uniform level of service and blended global pricing - commercials are flexible and offered on an annual, multi-year or, pay-as-you-go basis.
Service delivery with business
understanding
Service Level Agreements (SLAs) are based upon business requirements aligned to the local-level. ESP understands if services, such as Break-Fix, need to be down to as low as a 4-hour "call-to-fix" in the actual time zone of the problem itself and with our on-site engineers these response times can be as low as 30 minutes.
Typically, ESP identifies and enables resolution of faults, often even before our customers are aware of a problem.